If working out is something you are avoiding because you are too busy to get to the gym or you feel self-conscious about working out in public, you need a home rowing machine. Not every machine offers the same resistance or comfort, however. In fact, you have to do a good deal of comparison shopping prior to buying the ideal machine.  One of the most convenient and easy workouts to do at home is with a rowing machine. These machines can hold upwards of 500 pounds, yet they are slim enough to fit in a corner of a room or even under a bed.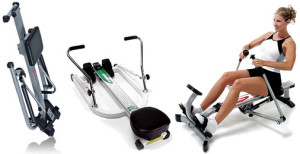 When choosing a rowing machine, look for one that has adjustable arms. The reason for this is that when you are able to adjust the arms, you gain complete control over your workout. You can adjust them so that your workout is more intense. Doing this helps you burn more calories in less time, and that is one way to ensure fitness or weight loss success.
If you are just starting out on a fitness regimen, you want an adjustable-arm rower so that you can gradually build up your strength. You do not want to start working out on the most intense level or you could harm yourself. Also, as you progress in your fitness routine, you want to be able to have the convenience of lessening the resistance at times.
There will be days when you want to do light exercise or days when you just need some "recovery" exercise in between more intense sessions.